Here Are the 11 Cheapest Electric Vehicles You Can Buy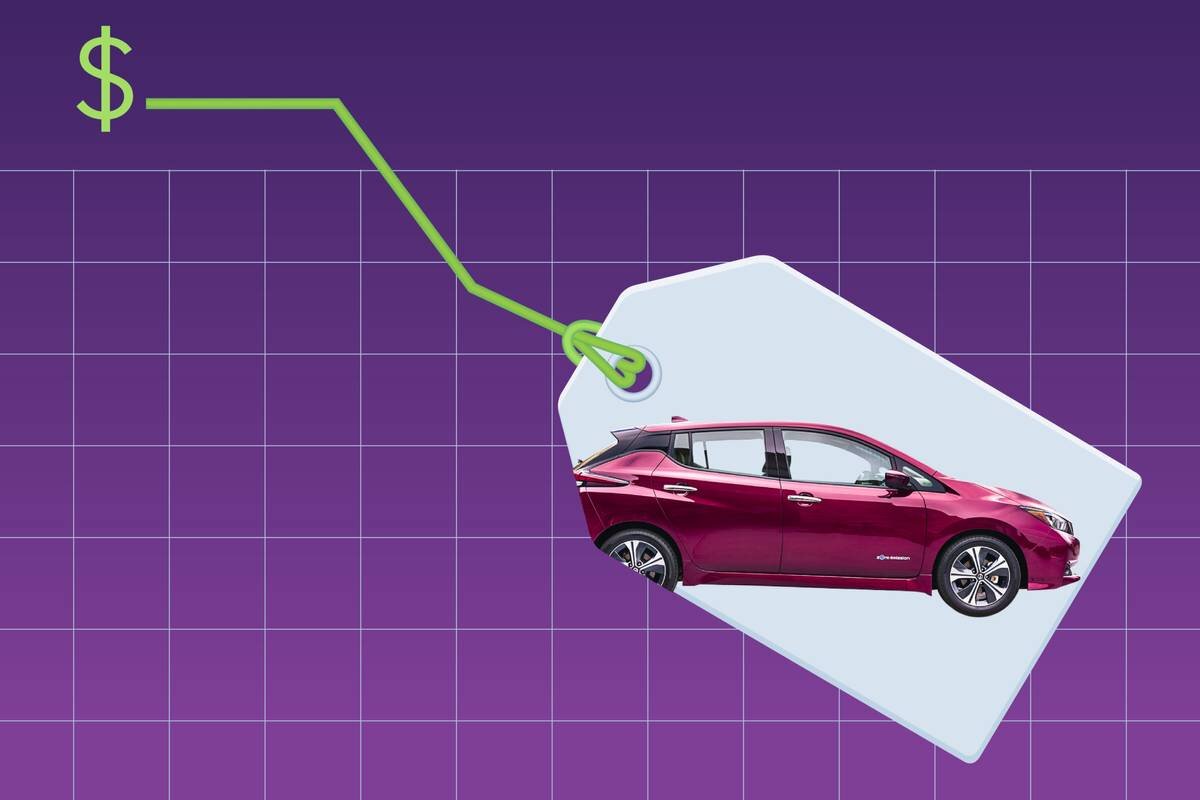 So you've decided to take a gamble on an electric vehicle, but you'd like to keep the ante down for getting into the game. There are lots of good reasons not to spend the kids' college fund on the fanciest, six-figure EV — namely, sending them to college.
You might be just looking for an efficient second car for city use or commuting in high occupancy vehicle lanes, where it makes little sense to pay top dollar for 400 miles of range when a 200-mile EV would serve your needs. Or you might have figured out (accurately) that by the time your new EV's lease or loan is finished, a wider selection of EVs with much improved technology will be available. Or the higher-than-expected cost to install Level 2 home charging, all but essential to owning an EV, might have shrunk your budget for the car itself.
Whatever your reasons, there are EVs available now that won't break the bank, though they're generally still more expensive than comparable gasoline vehicles. Note that availability can be relative for EVs. Some are sold only in certain states, while others require a reservation for delivery weeks or months later.
Below are 11 of the cheapest EVs you can buy, listed by starting price (including destination). The list features all-electric cars only; plug-in hybrid and fuel-cell models are excluded. Prices do not include the federal government's tax credit, nor any state or local subsidies. Of note, the federal subsidy has changed considerably as of Jan. 1, and additional guidelines for vehicle eligibility based on battery and materials sourcing are expected to be announced in March; read our latest coverage here. The IRS provides a list of automakers and vehicles that are currently eligible for the credit, including the two most affordable EVs on sale today: the Chevrolet Bolt EV and Bolt EUV.
Chevrolet Bolt EV, Bolt EUV
Starting price: $27,495
EPA-estimated range: 247-259 miles
Following a notable price cut in late 2022, GM recently raised prices slightly on the 2023 Chevrolet Bolt EV and Bolt EUV. Despite the recent price bump, the pair still claims the top two spots among the most affordable all-electric vehicles you can buy, with a starting price of $27,495 for the Bolt EV. Parent automaker GM also offers to help buyers with the cost to install a 240-volt home charger when they purchase or lease a new 2022 or 2023 Bolt EV or Bolt EUV from a qualifying Chevrolet dealer.
Other than the pricing update, the 2023 models are largely unchanged from the 2022s that got freshened looks. The biggest styling change for the 2022 Bolt EV is a more upright front end that has "high-eye" daytime running lights and turn signals with headlights lower down. Inside, it has new seats and a new instrument panel with a standard 10.2-inch touchscreen and available 8-inch gauge display. A new shifter design uses toggles and buttons. Most safety tech is standard, landing the Bolts among the top EVs for the best value in 2023. The pair offers rear cross-traffic alert, a 360-degree camera system and adaptive cruise control as optional. DC fast-charging capability is now standard, and the Bolt EV also comes with a dual-level charge cord that can be used with a 120-volt household outlet or a more powerful 240-volt home outlet, such as what you might find for a clothes dryer. The Bolt powertrain carries over with a 65-kilowatt-hour battery and 200-horsepower electric motor.
The Bolt EUV, which debuted for 2022, shares the same platform and powertrain, but with about 6 inches more length, more space and slightly less range for a bit more money. Although the two Bolts look similar, Chevy says they share no exterior sheet metal. Interior styling and features are similar, but the EUV is the first Chevy to offer GM's Super Cruise driver-assist tech for hands-free driving on compatible roads; it's a $2,200 option and only available on the more expensive trim level, Premier. Like the Bolt EV, the EUV has a standard fast-charging capability and dual-level charge cord. See the models compared.
Nissan Leaf
Starting price: $29,135
EPA-estimated range: 149-212 miles
The 2023 Nissan Leaf is a small four-door hatchback and was one of the first fully electric vehicles available nationwide when it rolled out in the U.S. as a 2011 model. Over the years, it has improved with more range and added safety tech; it also got a longer-range sibling, the Leaf Plus, with a bigger battery. For 2023, the Leaf gets some minor styling tweaks, and its lineup is simplified to a standard-range Leaf S and longer-range Leaf SV Plus.
The standard-range Leaf has a 40-kWh battery, a modest 147-hp electric motor and an EPA-rated 149 miles of range. The interior has few frills but does have a standard 8-inch touchscreen with navigation, Apple CarPlay and Android Auto. The Leaf SV Plus, meanwhile, has a 62-kWh battery, a significant range boost to 212 miles and a more livable 214-hp motor.
Hyundai Kona Electric
Starting price: $34,885
EPA-estimated range: 258 miles
This four-door subcompact SUV is mostly similar in styling and interior layout to the gasoline Hyundai Kona: It's comfortable in front, but tight in the backseat and cargo area. The Kona Electric has a 201-hp electric motor driving the front wheels, a 64-kWh battery and DC fast-charging capability that can go from 10% to 80% charge in as little as 47 minutes. The Kona line was freshened for 2022, and the Kona Electric got its own styling updates and wheels, plus interior changes that include a 10.25-inch touchscreen, a 10.25-inch instrument display and a redesigned center console with wireless charging capability. For 2023, the Kona Electric carries over largely unchanged. The Kona Electric is offered at dealers in a limited number of states, primarily those with required targets for zero-emission vehicle sales.
Mini Cooper SE Hardtop
Starting price: $35,220
EPA-estimated range: 114 miles
Once the cheapest EV in America, the Mini Cooper SE Hardtop — a two-door, four-seat hatchback — has been undercut by multiple competitors. The Mini has relatively limited range but plenty of miles for daily commuting use. With its sporty looks and driving manners, 181-hp electric motor (good for 0-60 mph in 6.9 seconds) and small size, the Cooper SE Hardtop could appeal to shoppers looking for a fun urban runabout or second car. And while range is limited, Mini says the 32.6-kWh battery can be charged with 7.4 kilowatts of AC capacity in about four hours on a Level 2 home or public charger. Despite a hefty price increase, the 2023 model is largely unchanged — just some new exterior colors and interior upholstery choices — from the 2022, which received the exterior, interior, tech and multimedia freshening that the conventional Mini Hardtop and Convertible models got. In addition to the base Signature trim level, the SE offers two higher trim levels plus a range of personalization options.
Mazda MX-30
Starting price: $35,585
EPA-estimated range: 100 miles
Mazda's first full EV sold in the U.S., the MX-30, went on sale in California in October 2021, with a national rollout in the works "over the coming years," the automaker said. An SUV-like hatchback, it sports a coupelike roof design with rear-hinged half doors and minimalist interior. Inside, environmentally friendly materials include cork in the center console, animal-free upholstery and recycled plastic bottle fibers for the door trim. The electric motor makes 144 hp and 200 pounds-feet of torque and draws power from a 35.5-kWh battery driving the front wheels; AWD isn't offered. Overall range of just 100 miles is underwhelming even among affordable EVs like the Leaf and Bolts, but Mazda throws in a few other perks, such as a preset number of complimentary loaner vehicles for road trips and $500 in ChargePoint credits for public charging or toward the installation of a Level 2 home charger.
Volkswagen ID.4
Starting price: $40,290
EPA-estimated range: 209-275 miles
The Volkswagen ID.4 is a small SUV that's fairly roomy for its size. It's also one of the more fun-to-drive and smooth-riding mainstream EVs, though the bar is pretty low on ride quality for EVs. City drivers also will appreciate a notably tight 33.6-foot turning diameter. The interior has a clean design and decent quality, though part of the design involves touch-sensitive controls we found frustrating to use. A 10-inch touchscreen is standard, with 12 inches optional. Cars.com's independent testing of cargo capacity determined there's 18.9 cubic feet behind the backseat, more than in the Ford Mustang Mach-E but notably less than in the Tesla Model Y.
The 2023 model adds a Standard trim with a smaller, 62-kWh battery pack that also costs thousands less than models with larger batteries. The base model gets an EPA-rated 209 miles of range; range increases in ID.4s with larger batteries. The RWD ID.4 Pro has an 82-kWh battery and 201-hp electric motor, with modest acceleration and an EPA-rated range of 275 miles. The higher-level ID.4 Pro S trim pairs more standard features with the same battery and motor. A dual-motor AWD option with 295 hp and up to 2,700 pounds of towing capability is available, though range also drops to 255 miles for the Pro and Pro S. DC fast charging up to 135 kW is standard, and buyers also get three years of free fast charging (in 30-minute increments) at Electrify America stations.
Kia Niro EV
Starting price: $40,875
EPA-estimated range: 253 miles
Kia's Niro EV is part of a line of electrified-only hatchbacks that also includes hybrid and plug-in hybrid versions, all of which received a full redesign for the 2023 model year. The 2023 Niro EV uses the same architecture as its predecessor, with standard front-wheel drive, a 64.8-kWh battery pack and a 201-hp motor to achieve an estimated maximum range of 253 miles. To get the price listed above, buyers should look for the base Niro Wind; the loaded trim is the Wave.
Hyundai Ioniq 5
Starting price: ​​$42,785
EPA-estimated range: 220-303 miles (estimated)
The Hyundai Ioniq 5 has specs similar to the Kia EV6 (Kia and Hyundai are affiliated automakers). That includes a similar choice of standard- or long-range battery packs and either RWD or AWD, though the Ioniq 5 has both slightly lower range estimates and a lower price than the EV6. It, too, can use 350-kW DC fast charging and also includes vehicle-to-load capabilities. For 2023, Hyundai improved the range of AWD Ioniq 5s to 266 from 256 miles, increased the maximum towing capacity for most models to 2,300 pounds from 1,650 and added a battery preconditioning feature.
Toyota bZ4X
Starting price: $43,335
EPA-estimated range: 222-252 miles
Toyota's bZ4X SUV offers a choice of single-motor FWD or dual-motor AWD powertrains, with a 71.4-kWh battery pack for FWD models and a 72.8-kWh battery pack for AWD versions. Range varies from 222 to 252 miles depending on the configuration, with the base FWD XLE rated the highest. That's a possible bonus for shoppers looking to spend the least possible on the bZ4X, as the cheapest trim has the most range. The bZ4X skews toward comfort over performance; FWD means 201 hp, while adding a second motor and AWD bumps the power figure up only slightly, to 214. The bZ4X's charging capabilities also lag behind some competitors, which may make it more suitable as a second commuter car rather than a full-time family hauler.
Nissan Ariya
Starting price: $44,525
EPA-estimated range: 216-304 miles
Joining its Leaf stablemate on the list of cheapest EVs is the new-for-2023 Nissan Ariya. Comparable to the Rogue in size, the all-electric SUV is available with a standard 63-kWh battery pack or an extended-range 87-kWh battery. Single-motor FWD models with the standard battery get a maximum EPA-rated range of 216 miles, while the extended-range battery boosts the maximum range to 304 miles. The Ariya is also available with dual-motor AWD, with an automaker-estimated maximum range of 272 miles for the extended-range battery and 205 for the standard variant. The starting price listed above is for the base Engage trim with FWD, which only offers the smaller battery pack.
Source : cars.com
---