Knowing 8 Components Of Electric Cars And Their Functions, "Electric Vehicle" Lovers Must Know!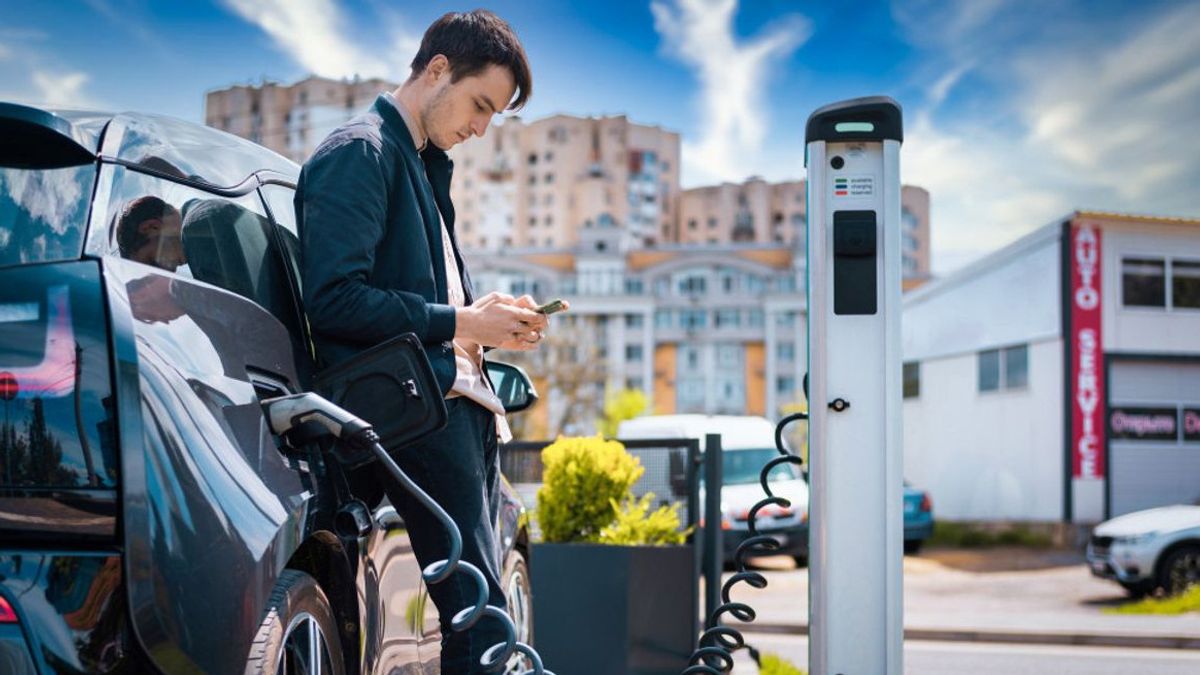 YOGYAKARTA Electric cars are superior vehicles in terms of daily practicality and use. In addition, the components of electric cars are also very simple and not as complex as in conventional cars.
Electric cars do not produce emission residue in the form of carbon dioxide aka Co2 so they do not pollute the air. That's why electric cars are considered more environmentally friendly than vehicles that still use natural fuel. In electric cars, the vehicle mechanism is processed using electric power.
Compiled by VOI from various sources, Friday, August 2, 2022, there are several components in electric cars and their respective functions that make electric car performances more than ICE cars (Internal Combustion Engine). Here are some components of electric cars that you need to know:
1. Traffic Battery (Traction Battery Pack)
The Traction Battery functions to store and deliver direct-current or DC electric currents to the inverter, which is then used to drive the motor traffic.
The traffic battery is made with a strong structure so that the most important components are not easily damaged. In addition, the traffic battery is also designed to be filled repeatedly.
2. Inverter
Inverter is a device that converts the flow of directions (DC) on batteries into back and forth (AC) flows to be used by traffic drivers.
Another function of inverters is to convert the AC current when regenerative braking into DC currents to then charge batteries. This component also functions to control the pressure on the gas pedal, where the inverter can accelerate and slow down the motor.
3. Traction Driver (Traction Motor)
Mobilizers or motors traffic are electric dynamics that function to drive transmission and wheels. One of the most important components in this electric car can rotate up to 18,000 rpm.
4. Controller
The next electric car component is the controller. This component functions as an electric charger that is channeled from the battery to the inverter, then driving the motor traffic.
5. Auxiliary Battery
Auxiliary Battery is an additional battery component in electric cars. This component serves as a storage area and a provider of electric current to power car accessories that do not include major components such as air conditioners, wipers, alarms, and car lights.
In addition, auxiliary battery can also be used as a spare battery if at any time the traffic battery is in trouble.
6. Charger
Charger is a component that functions to recharge the battery. Charger works by converting the AC into DC then stored in the battery.
Broadly speaking, there are two types of chargers on electric cars. First, on-board chargers installed inside the interior of the car. Second, charger off board that is not installed with the car.
Electric cars equipped with on-board chargers will receive back and forth currents (AC). While electric cars without charger off boards, will get a charging port-directive current as a reference point.
7. DC-DC Converter
This component functions to change DC's electric power higher than the battery package route to lower voltage. The goal is that electricity can be utilized by other components of electric cars that require lower energy.
In addition, the DC-DC converter component is also used as a tool for charging the battery.
8. Themal System (Thermal System)
Themal system functions as a car engine cooling and maintains a suitable operating temperature range for machines, motors, traffic, and various other electrical components.
With the thermal system, other car components will remain in normal temperature, although electric cars have been speeding for a long time.
Those are some components of electric cars and their functions that you need to know. Hopefully, it can increase your insight into how electric cars work.
Source : voi.id
---