Supply Chain Resilience Strategy: Build and Measure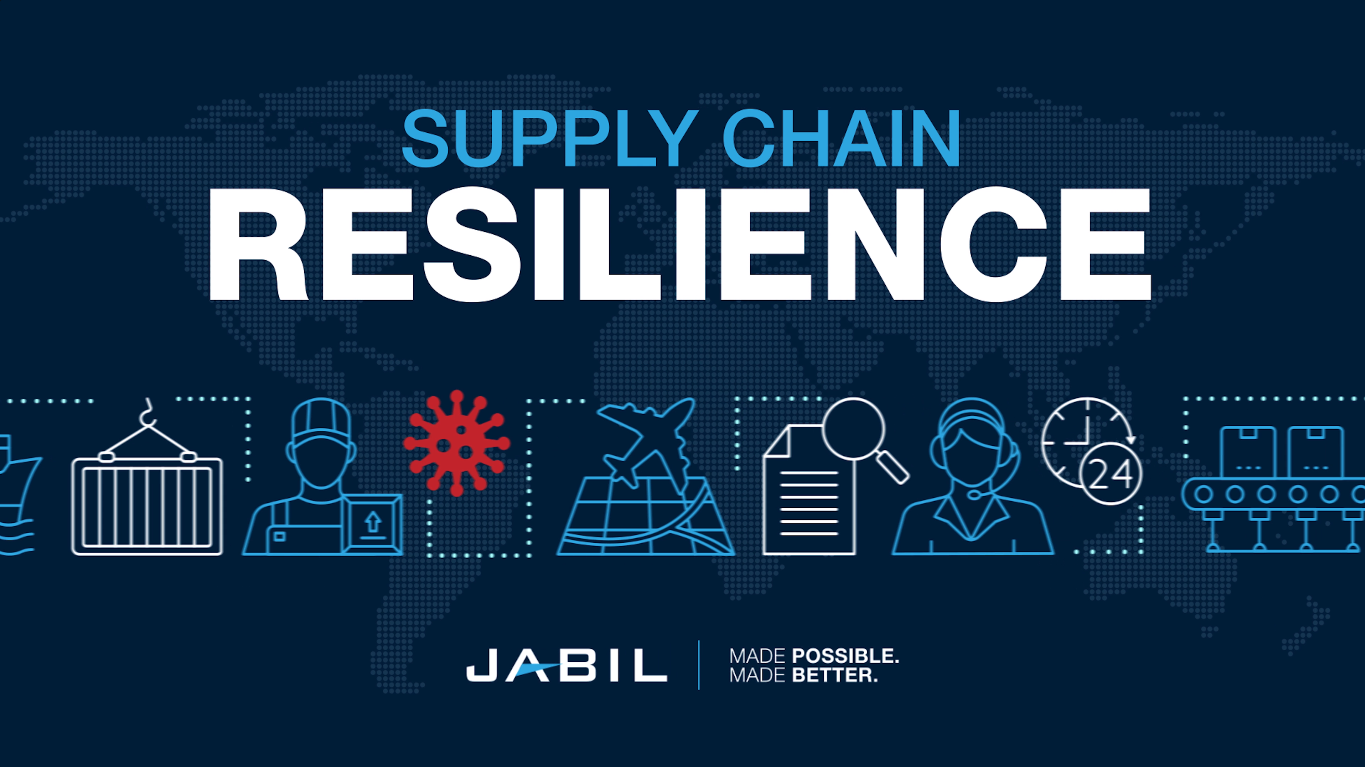 The massive disruptions of the last decade have cast a spotlight on supply chain resilience. The Japanese tsunami and Thailand floods in 2011 and multilayer ceramic capacitor (MLCC) shortages in 2018 shocked global supply chains. But these events were limited to specific geographical regions; The COVID-19 pandemic has impacted the entire world. These certainly weren't the first and won't be the last disruptions impacting global supply chains. How do you build supply chain resilience to prepare for the next disruption?
What is Supply Chain Resilience?
Supply chain resilience is a company's ability to navigate unexpected supply chain disruptions with its existing capabilities. In other words, supply chain resilience is the ability to react to problems and recovering from them without significant impact to operations and customer timelines.
The supply chain is like a series of precariously standing dominoes. Any number of things—an earthquake, factory fire, transportation breakdown, geopolitical disruption, to name a few—could topple one domino, causing the others to collapse. In other words, if one aspect of the supply chain is exposed to risk, the entire network is vulnerable. With supply chains growing increasingly complex, the chances of something going wrong and impacting the whole system is correlatively rising.
For decades, businesses have focused on minimizing costs, reducing inventory and rising asset utilization instead of protecting supply chains from production-halting disruptions and bettering flexibility. Consequently, many were unprepared for the shockwaves from a global crisis.
Jabil sponsored a survey of 715 global supply chain decision-makers in seven key industries, including automotive, consumer electronics, retail and healthcare. Almost 80% of them indicated that the COVID-19 crisis has impacted their supply chain more than past disruptions, material shortages, geopolitical and global trade instability or any other factors.
The blow of the pandemic served as a much-needed wake-up call for supply chain leaders as it exposed the brittleness of modern supply chains and reinforced the need to prepare for future disruption. With many having to contend with gaps in their supply chains, almost 95% of our survey participants affirmed that they care about their supply chain resilience. However, only two-thirds adequately fund resilience strategies and efforts.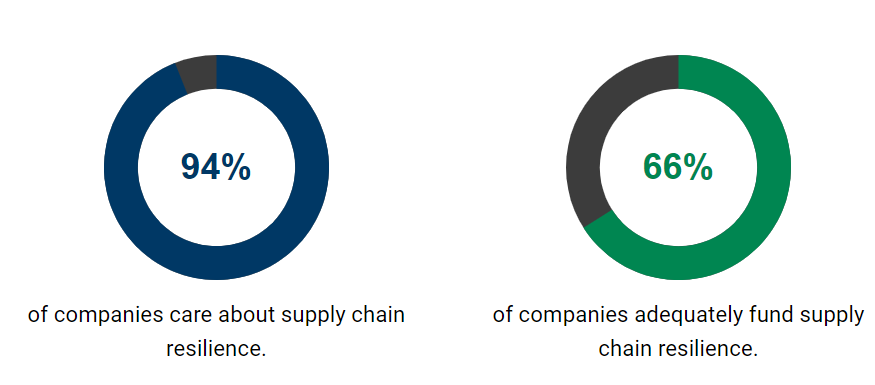 Assumptions made in a pre-COVID world need a re-evaluation today for a more robust supply chain transformation. Here are how companies can evaluate and optimize their supply chain resilience.
The Core Enablers of a Supply Chain Resilience Strategy: People, Process and Technology
How can you minimize disruptions in your supply chain? Affected companies need more resilient supply chains to ensure that they can continue production in the face of any challenge. A good supply chain resilience strategy has three core enablers: people, process and technology.
People
Companies need enough manpower to complete the work, but they also need skilled workers with the knowledge to help their employers tackle tough challenges. Scout for knowledgeable engineers, procurement specialists and supply chain managers who can supplement existing talent and help the company navigate a difficult business environment. Concurrently, look for people with market knowledge, who can help the company stay ahead of market trends. Manufacturing will never slow down, so you need the right people to help you keep up with the pace of business.
Once you have the talent you need, structure your organization for success. Organize a commodity management team and a supplier relationship team. Commodity managers focus on short-term goals and should be experts in their specific commodities markets. This means they are constantly aware of new products, supply chain developments, pricing changes and other market activities. Such awareness can help mitigate issues related to cost increases and component shortages.
Supplier relationship managers work with a long-term technology roadmap. These individuals do not handle price negotiations or the short-term business of their commodity counterparts. Instead, they are focused on building relationships with suppliers at the executive level by understanding their core business strategies and proactively approaching these partners with opportunities for mutual benefit.
Unfortunately, the COVID-19 pandemic has complicated supplier relationship management. Before the pandemic, supplier relationships relied heavily on face-to-face interactions and in-person meetings. However, travel restrictions are creating a new virtual environment as supply chain professionals conduct their discussions without traveling.
This inability to travel builds uncertainty, especially with companies that have been maintaining numerous supplier relationships over many years. Supply chain managers are having to rethink how they can maintain those relationships in a new way. This is especially crucial since supply chain, at its core, is a people business. If a supplier is only running at 20% or 30% capacity because of a disruption, you can bet their limited goods will be prioritized by the strength of their relationships.
This type of organizational structure should help cover your bases, but it may seem unrealistic for some businesses. Companies that are unable to accomplish this or have different business needs should consider partnering with a manufacturing solutions provider, which can help enable supply chain resilience.
Process
Employees do their best work when they are empowered by effective, robust processes. To manage component shortages and obsolescence and to increase supply chain resilience, companies need to bolster their processes in the following areas:
1. Forecasting: No matter what, you need to understand what's necessary. This helps secure supply with good information. Then, think about what you need in the long term. If you start ordering parts two weeks before they're needed (because you didn't forecast effectively), you'll have a very low chance of procuring what you need in time. But, knowing in advance that you have demand in the pipeline from good forecasting, you may have time to secure supply and stay ahead of shortages.
To drive a robust forecasting process, you need to link sales requirements to operations, raw materials and component availability. In the past, sales and operations planning (S&OP) has resembled a "load and chase" process as companies made decisions in silos with disconnected tools. This time-consuming and reactive approach has resulted in an excess of materials and capacity. However, an integrated S&OP allows realistic, feasible and flexible planning with trade-off analysis. Overall, it is a more efficient and proactive approach to supply chain management.
2. Inventory: Look at low-volume parts that might impact the availability of high-value features. Add safety stock to reduce the risk of a production slow down or halt.  Also, focus on supply assurance versus shortage management. Shortage management is a strategy that looks at how many of a specific item is needed by a specific date and guides purchasing managers to procure based on this information. Supply assurance looks at all the needed parts over a very long horizon, taking into account possible shortages and obsolescence, and develops supply plans for those parts.
Companies should invest in optimized inventory strategies to drive order flexibility and service level performance. These include: managing long lead times, inventory positioning, safety stock to counter unexpected demands and dynamic, localized replenishment models to ensure materials are delivered exactly when they are needed – not simply when they're forecasted to be needed.
3. Supplier relationships and sourcing: Follow a clearly defined sourcing strategy linked to supply chain risks…not just cost. Make sure you have a good reason for working with specific suppliers. Stay away from single-source relationships and work to expand your supply network. Develop a second source relationship and define geographic priorities to reduce supply chain risk.
That said, there are times when companies have to rely on a single source relationship as a result of cost, technology or other factors. In those cases, ensure you have a solid C-level relationship with your key supplier. Developing a solid supplier-customer relationship takes time, and it's usually best to start building this relationship in a balanced market. Then, when the market turns, your supplier base or partner should return the favor and help you procure the items you need.
4. Market awareness: You need to make sure you're as smart as everybody else and staying on top of market trends. Keep tabs on what products are available in the market, where you can procure them, as well as the latest standards of design and best practices for managing your supply base. Also, keep an eye on the needs and trends of the specific market(s) you serve. This can assist in supply chain management and more effective decision-making.
As part of this, monitor the technology curve for materials and design and make product design a regular conversation – your company depends on it.
Technology
Technology can help organizations complete the above-mentioned processes more easily and accurately. For example, real-time analytics and decision support tools, including enterprise resource planning (ERP) and electronic data interchange platforms, can help provide baseline data which, in turn, justifies investments in spend, supplier and commodity analyses.
Together, these provide enriched data sets that can help managers better understand the dynamics of the procurement process; make decisions related to customer needs, production schedules, logistics and delivery requirements; and anticipate upcoming challenges, including shortages, and respond quickly to market shifts.
Visibility—along with connectivity and flexibility—is commonly recognized as a key part of the trifecta of supply chain success. But this supply chain visibility needs to be both complete and instantaneous. It relies on analytics; it requires having technology that can gather and deliver real-time data that translates into actionable insights.
Today's digital economy demands a new approach to manage the entire supply chain ecosystem—a solution that leverages the cloud, real-time connectivity and advanced analytics. That's where a fully integrated suite of planning, sourcing, orchestration and logistics platforms that uses big data analytics and AI can deliver greater visibility, recommended actions and predictive risk mitigation for supply chain resiliency.
After all, things can change in a matter of minutes; you need to be able to make decisions just as quickly. The need for end-to-end visibility, rapid response and immediate availability is changing business models. Companies should invest in solutions that can be tailored to meet their individual requirements for better supply chain risk management and to reduce the overall cost of their bill of materials (BOM).
Resilient supply chains have to do more than simply keep up; they need to stay ahead.
How to Strategize for Supply Chain Resilience
Like other disruptions, COVID-19 exposed holes in nearly every company's supply chain. Thankfully, there are measures that businesses can take to minimize their supply chain vulnerability in the event of future disruptions.
1. Start with Strategic Product Design
Another market shift is happening in the design arena. Companies previously did not need to allocate engineering resources to handle qualifications, requalifications or approvals of new parts and suppliers. Now, priorities are changing, and engineers need to spend more time redesigning products and future-proofing when possible. This means there's a need to update the parts selection process and evaluate components for current and future market availability. Engineers also must stay abreast of what parts gain legacy status and ensure they're not included in new product designs. This is all part of making your supply chain more resilient.
Again, paying attention to trends in the supply base can help guide design processes. For example, the supply base has been indicating for a long time that it's time to miniaturize. Engineers who have been aware of this trend know to choose the smaller passive components that are more likely to be available as this trend intensifies.
Companies also need to be aware that it will be difficult to keep product designs stable throughout the next 10 or 15 years. Suppliers will most likely discontinue parts – or at least make fewer of them – so products should be designed with some flexibility to incorporate the different parts that will be readily available in the future. Or, at the very least, companies will need to be prepared to redesign products to keep pace with the components market. An unexpected redesign process can set your product and company back considerably.
2. Establish a Demand Plan for the "New Normal"
Right now, demand planning is not a typical approach to supply chain. Most companies use history to project the future. They consider macroeconomic and market conditions as well as cyclical markets caused by factors like the holiday season. Typically, you can look back at history and note all the different dynamics throughout the year. That's how you shape demand. However, the novel coronavirus is severely impacting companies' ability to do this.
There has been a lot of buzz about the "new normal." But there isn't going to be anything normal about the future. Already, COVID-19 has significantly affected the current state and likely the future of retail. Online retailing is through the roof; some estimates say an extra $107 billion has been spent online since March as a result of the pandemic, and Amazon had to hire 100,000 new workers in the U.S. and Canada to meet burgeoning demand.
This unstable environment makes demand forecasting increasingly difficult. After all, product development can take two or three years, and the average lead time for most supply chains is 25-40 weeks. That means that to deliver a product in October, companies need to start planning in January. In January 2020, no one could have predicted that many parts of the world would be on lockdown for the foreseeable future and people's needs and wants would change drastically as a result (think about the unexpected toilet paper shortage and sudden demand for ventilators). Even now, no one knows what the world will look like in 10 months and how it will affect various markets.
In response, companies are increasing their investments in analytics and visibility. Almost 100% of our survey participants affirmed that they are investing in supply chain technology or services to address COVID-19 and nearly half specifically pointed to bettering their demand planning.

Macroeconomic conditions make it extremely difficult for people to project forward. Supply chain managers aren't going to be able to forecast accurately. They don't know what features they want, when they want it or what price they're going to pay. After all, the products that were designed last year were for a different kind of market condition than what the markets need today. Consequently, people are rushing new and different products into the market. It's a very interesting dilemma for supply chains to attack and manage, and it makes the importance of having an agile, resilient supply chain even more important.
3. Develop a Business Continuity Plan for Multiple Disruptions
With so much potential for a supply disruption—from natural disasters to geopolitical conflict to component shortages—it's impossible to definitively plan for the next crisis. For instance, a pandemic has always been on that list, but nobody was prepared to actually contend with one. But companies are re-energizing their supply chain strategy by ramping up their business continuity plan.
According to the Jabil supply chain survey, the top goals of companies' supply chain resilience programs are to gain the ability to recover quickly without impacting customer delivery timelines, maintain multiple sourcing options and develop high levels of supply chain agility to increase or decrease production. Creating a continuity plan supports these goals.
What are the key goals of your company's approach to supply chain resilience?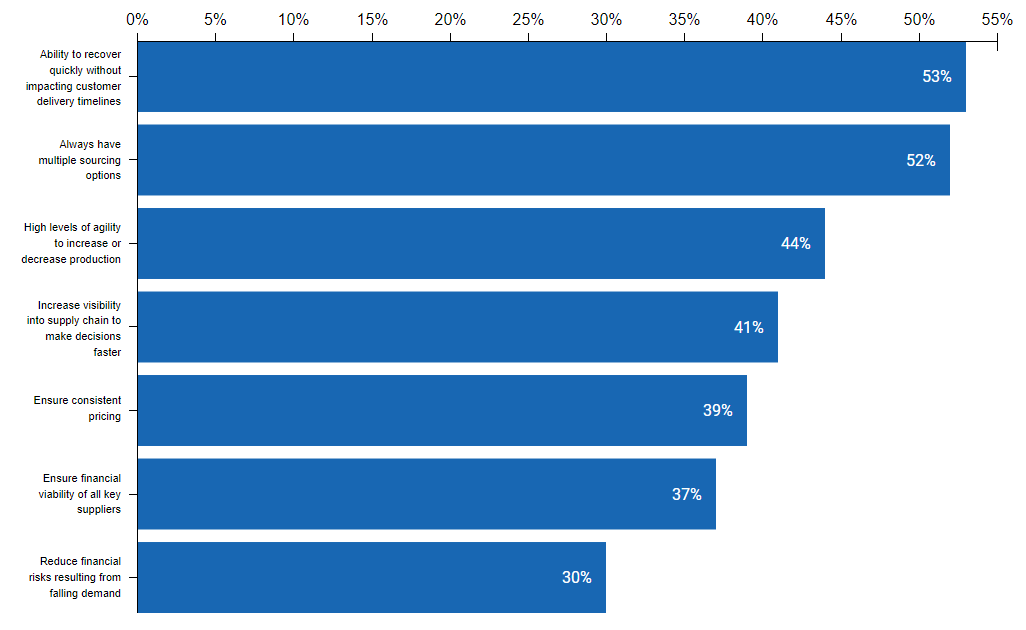 Time-to-survive refers to the amount of time it takes for your business to resume your supply chain operation after a disruption. For example, the "time-to-survive" for some factories in China took about three weeks. That's approximately how long it took to secure the necessary personal protective equipment (PPE), establish safety regulations, obtain government clearance and re-open the factories.
There are a number of questions companies need to work through in time-to-survive: how do we pay people? How do we get people back into the workplace? Can we take corrective action to reopen our doors? What is the problem, do we understand it and how do we resolve it?
Essentially, time-to-recover is the time it takes you to recover all of your backlog. Even though the Chinese factories were functioning again in less than a month, they were running at a fraction of their normal capacity because of lost time and a lack of workers. As a result, it took about three or four months to recover their backlogs.
Time-to-thrive is an evaluation of the company after it has emerged from a crisis. It compares the states of the company pre- and post-crisis and asks, "how are we stronger now because of what we learned during the supply chain disruption and how we changed in response?"
Companies that navigate volatile supply chains and turbulent market conditions and adjust their strategies to be more prepared in the future can emerge from disruptions with a win. To do this, they need to pivot their services to match what the market really needs as opposed to what it needed before. Because of this, they can earn more business. For example, when restaurants were shut down, many tweaked their business model to accommodate delivery or pick-up.
Leading companies with an agile and digital supply chain that could respond to that un-forecasted, massive increase in demand thrived. But supply chains have to be that dynamic and nimble to do that.
When I look back on how Jabil handled the COVID-19 disruption, we didn't have to invent anything new. There weren't any strategies, analytics or processes we had to put into place to deal the disruption; we already had them because that's what our customers needed. We just leaned on our existing people, processes and technologies. And we didn't break. Our established capabilities kept every "domino" in our supply chain upright.
Because of the Rube Goldberg machine-like nature of supply chain, it is essential to protect your company by building supply chain resilience as a competitive advantage. Planning ahead with a robust supply chain resilience strategy will help your company tackle any potential disruption; protect production capacity while staying at the forefront of the technology curve; and most importantly, deliver the highest quality products and services to meet your customers' rapidly changing needs. Let's take the lessons learned from COVID-19 and apply them toward building a more resilient supply chain and a more resilient enterprise.
Source : jabil.com
---