Here's how solar can help triple renewable energy by 2030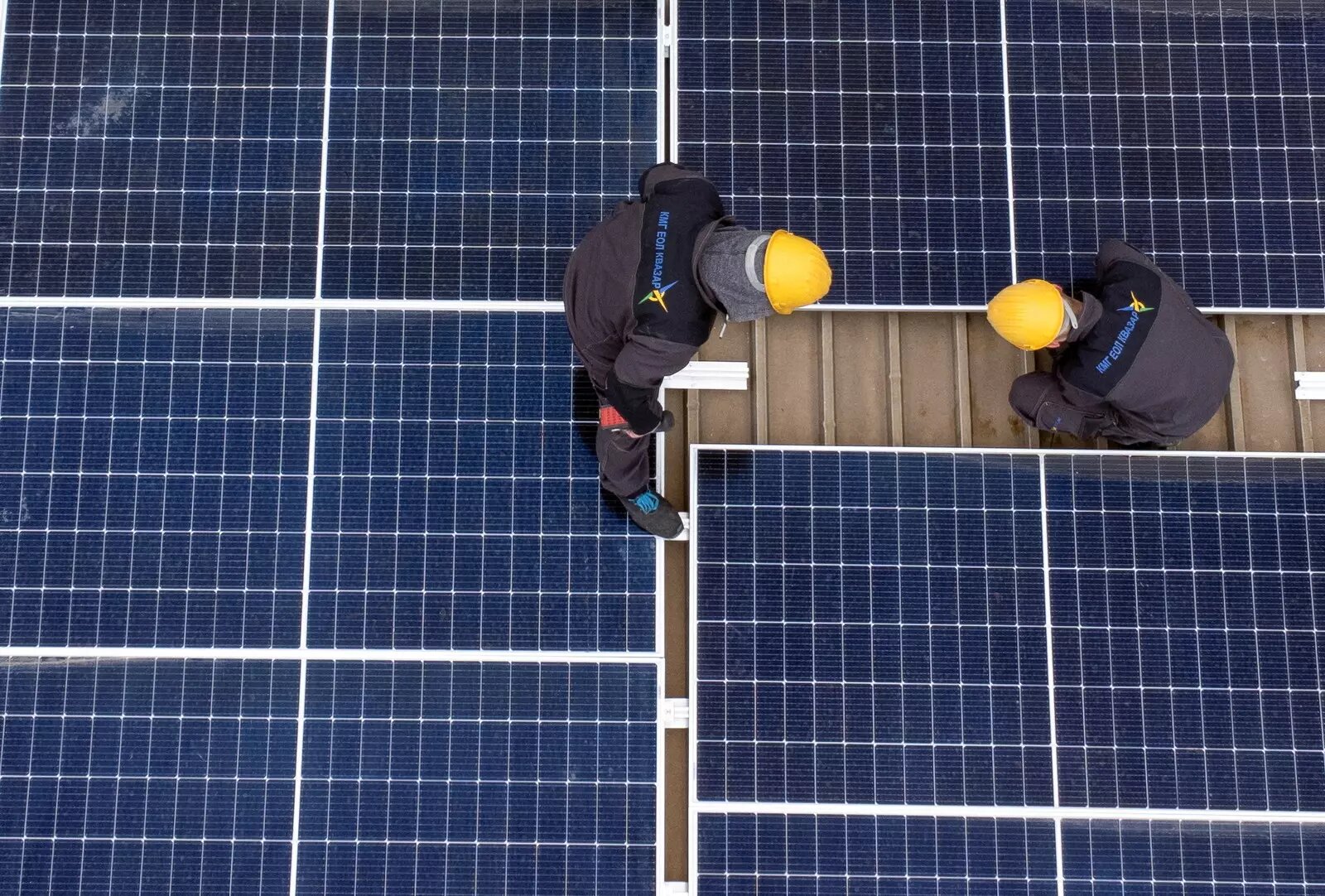 Solar has provided energy access to remote and underserved populations, particularly in vulnerable developing economies.
Yet, geographical, sectoral and manufacturing imbalances have emerged that threaten universal energy access and the widespread adoption of solar technology.
From solar mini-grids to diversifying the concentration of manufacturing of solar technologies, these interventions can help grow solar energy.
It is a global imperative to move to renewable sources of energy. The reasons why are various: obviously, to move to zero carbon emissions, but also to provide energy to all, to create new jobs which did not exist earlier, to improve local air quality and to reduce the burden on national economies owing to energy imports.
Solar energy technologies are a vital intervention to achieve all of these goals. Despites solar's proven success in providing energy access to remote and underserved populations, particularly in vulnerable developing economies, three types of imbalance have emerged. Each poses a significant obstacle to universal energy access and the widespread adoption of solar technology:
Geographical imbalance: a significant portion of the investment in solar energy remains concentrated in developed nations, leaving developing countries with limited opportunities. Africa, in particular, has received a meagre share of the investments, hindering progress in the region.
Sectoral imbalance: while large-scale solar farms dominate the majority of investments, smaller-scale solar applications like solar pumps, cold storages and other renewables-based livelihood options receive insufficient attention. These smaller-scale solutions are crucial for decentralized and localized energy access.
Manufacturing concentration: more than 80% of solar technology manufacturing is carried out in just two countries. This has created disruptions in the supply chain: choked supply chains, owing to the manufacturing of solar panels being concentrated in one country, led to prices of solar increasing by more than 20% almost all over the globe in 2021. This issue will be magnified as demand is expected to increase by as little as three times and as much as nine times by 2030.
Three kinds of intervention can urgently address these imbalances at the global level to make renewable energy, and especially solar energy, the energy source of choice in all our countries.
Solar mini-grids and standalone solar
The first intervention relates to using solar mini-grids and standalone solar systems to enhance universal energy access. Grid extension alone will leave 660 million people without electricity by 2030 – the year by which it is expected that electricity access to all will be provided. For villages and towns more than 10-15 kilometres from the grid, solar mini-grids are particularly useful; while for those with population densities of less than 400 people per km², solar stand-alone systems will make sense.
The focus, therefore, needs to be on technologies, business models and financing instruments to enable a mix of grid, solar mini-grids and standalone solar systems to enable universal energy access. The International Solar Alliance has initiated a solar facility, with a payment guarantee mechanism amongst other mechanisms, focused on small-scale solar applications, to pull investments into countries and sectors that are currently underserved.
Diversified manufacturing of solar technologies
The second intervention relates to the geographical diversification of manufacturing and in finding the sweet spot between the scale of manufacturing on the one hand and reliability of the supply chain on the other. The low-hanging fruit in this regard is to help countries with adequate demand nationally or regionally to manufacture solar modules. Importing cells but manufacturing the modules reduces supply chain vulnerabilities and the costs associated with the imports of modules, which are greater than those for importing cells. Increasing investments in module manufacturing will push the lopsided manufacturing curve to a more balanced curve.
Integrating solar energy
Thirdly, solar energy (and other forms of renewable energy) must be integrated, for transitioning hard-to-abate sectors and others to lower carbon pathways. An emerging technology with immense potential is green hydrogen, which can be transformative as a heating and transportation fuel, as well as a storage medium. At the same time, there is a need for a robust and cost-effective approach for ensuring that green hydrogen is truly green to suit the world's decarbonization goals.
In addition, global knowledge exchange on energy transition – and on solar in particular – must become easily accessible. This will help spur technological development, improve national policies to attract solar investments and create opportunities for greater collaboration.
The COP28 presidency has stressed the need for renewable energy capacity to triple by 2030. To achieve this, solar will play a crucial role. The International Solar Alliance is committed to supporting its members by helping to expedite solar deployment. For this, we need a massive surge in clean energy investment, tripling current levels by 2030. The good news is that investment in clean energy is finally picking up, with a 12% annual growth rate since 2020, driven by solar and wind power projects.
However, this investment is largely concentrated in OECD countries and China leaving many developing economies, especially in Africa, struggling to attract clean energy investments. Emerging economies receive a mere fraction of what is required to meet their energy needs sustainably. International financial organizations and development institutions have a critical role to play in addressing this disparity. Working with national governments to improve the investment environment and providing financing, they can help bridge the gap and promote clean energy projects in developing nations. A more secure energy future requires judicious investment decisions and strong leadership from governments and businesses alike.
As we approach the global stocktake, move closer to the 2030 deadline and, at the same time, also see an intensification of climate impacts across the world, it is critical that we learn and share the regulatory frameworks and business models that work. We must create guarantees that provide confidence to investors and help create the trained and certified people-power that can install and manage solar facilities. The energy landscape of the future will be shaped by the decisions we take today.
Source : weforum.org
---